April 2019
____________________________________________________________________
Infoavond: De anarchistische wortels van 1 mei (met Dennis Bos) – 24/04

In veel landen gaan mensen op 1 mei de straat op. Maar waarom doen ze dat juist op die dag? Wat is de betekenis van 1 mei eigenlijk? En wat hebben anarchisten ermee te maken?
Spoiler: heel veel!
Als opwarmertje voor deze strijddag organiseert LAG een infoavond over dit thema in Sojo. Historicus Dennis Bos komt een toegankelijk en informatieve lezing geven over de herkomst en betekenis van de 1 mei-traditie. Hij is als onderzoeker naar de sociale beweging in de 19e en 20e eeuw verbonden aan de Universiteit Leiden.
Deze infoavond zal doorgaan in het Nederlands.
Place to be: JH Sojo, Eenmeilaan 35, Kessel-Lo  (vlakbij station Leuven)
Wanneer? 24/04 vanaf 19u.
_____________________________________________________________________
Wat?
We komen samen en bespreken een anarchistische tekst, deel van een boek of een essay. De tekst en mogelijke discussiepunten om over na te denken vind je op onze padlet.
Volgende keer lezen we een hoofdstuk uit The battle for Spain en eentje uit No gods no masters.
What?
Door de samenstelling van de groep zijn de discussies in het Engels.
Wanneer?
Elke laatste vrijdag van de maand, de volgende keer op 26 april, om 20u.
Waar?
JH SOJO
Eénmeilaan 35, Kessel-Lo
____________
What?
We come together and discuss an anarchist text, part of a book or an essay.
The text and possible discussion topics are found on our padlet.
Discussions will be in English.
Next time we read a chapter from The battle for Spain and one from No gods no masters.
When?
Every last friday of the month, next time on April 26th, at 8pm.
Where?
JH SOJO
Eénmeilaan 35, Kessel-Lo
_____________________________________________________________
Rojava: A beacon of hope – 06/05
Infoavond over de situatie en context in Rojava en de volksrevolutie in Noord-Syrië.
18u: volkskeuken: vegan eten aan vrije bijdrage
19u: uitleg en gesprekken met verschillende mensen/groeperingen die ervaring hebben met de strijd in Rojava
Place to be: JH Sojo, Eenmeilaan 35 Kessel-Lo (vlakbij station Leuven)
Meer informatie volgt nog, voor alle updates kan je terecht op de Facebookpagina.
____________
A talk about the peoples revolution in Northern Syria.
18h: peoples kitchen : vegan food at free contribution
19h: talk with different people with different experiences in the struggle of Rojava
Place to be: JH Sojo, Eenmeilaan 35 Kessel-Lo (close to Leuven station)
More info to be announced soon! To stay updated, check the Facebookpage.
_____________________________________________________________
Partizan fightsport weekend 2019 – 11 & 12/05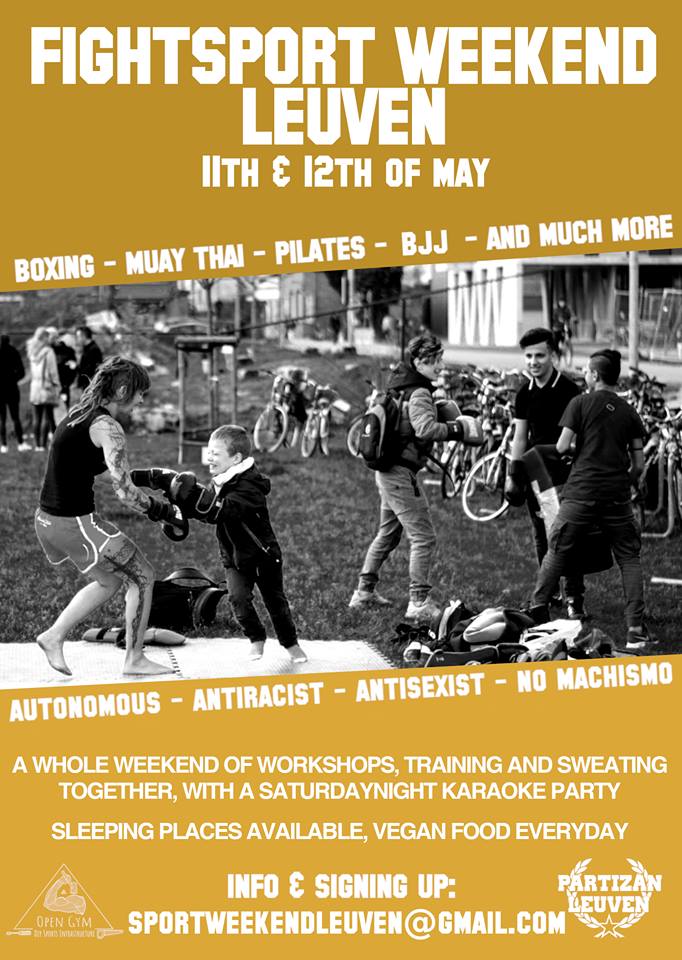 Onze vrienden van Partizan organiseren ook dit jaar weer een sportweekend op 11 en 12 mei, inclusief karaoke op zaterdagavond om te ontspannen tijdens een sportief weekend!
Partizan is een autonome sportclub waar iedereen welkom is om op een aangename manier te trainen, zonder seksisme, racisme, machismo, …
Voor info en inschrijvingen: sportweekendleuven@gmail.com
____________
Our friends from Partizan are organising another sportweekend, this year on 11 and 12 may, including again karaoke on saturdayevening to relax during a sporty weekend!
Partizan is an autonomous sportsclub were everyone is welcome to train in a nice atmosphere without sexism, racism, machismo, …
For more information or to subscribe: sportweekendleuven@gmail.com
_____________________________________________________________
LAG maakt deel uit van de Alliantie voor een revolutionaire 1 mei, die deze maand een aantal activiteiten organiseert naar aanloop van de betoging op 1 mei. Onze infoavond op 24 april is hier ook een onderdeel van.
Voor de agenda met activiteiten in Brussel kan je terecht op de website of Facebookpagina van de Alliantie.
____________
LAG is a member of the Alliance for a revolutionary first of May, who organise a few activities as a warm-up for the manifestation on the 1st of May. Our info evening on the 24th of April is also a part of this.
For the agenda with activities in Brussels, you can check their website or Facebookpage.
Revolutionaire 1 mei Brussel
1 Mei is niet compleet zonder een betoging en hiervoor trekken we naar Brussel.
Om 11u is het verzamelen aan Carré de Moscou voor een revolutionaire betoging.
Later sluiten we aan bij de grote betoging.
Voor meer info, check de pagina.
____________
The first of May is not complete without a demonstration and we'll do this in Brussels.
At 11h we meet at Carré de Moscou for a revolutionary manifestation.
For more info, check this page.
_____________________________________________________________
05/04 Week-end antispéciste de soutien – Brussel
06/04 Open Deur Open Gym 2.0 – Leuven
Opendeurdag van onze andere sportieve vrienden, namelijk Open Gym. Check them out!
Open day of our other sporty friends, Open Gym. Check out their cool initiative!
28/04 Betoging voor de regularisatie van Sans Papiers – Brussel
_____________________________________________________________
04/05 Steenrock
09/05 Undivided against racism – Leuven, more info to be announced. Save the date!
11/05 Queer Pride Gent
24/03 Global strike for future
01/08 No border camp
03/11 Anarchistische boekenbeurs Amsterdam
_____________________________________________________________
Wil je deze nieuwsbrief graag maandelijks in je  mailbox? Stuur ons dan even een mailtje en dat komt in orde!
Would you like to receive these updates monthly in your inbox? Send us an e-mail about this and we'll make it happen!